About us// Our partner
Partnership is a gain for both sides

IBM is the leading global provider of software and services for Enterprise Lifecycle Management (ELM). Award winning IBM products go beyond Requirements management and Application Lifecycle Management (ALM) by combining the voice of the customer with business objectives, to drive the development of products, applications, advanced systems, and software. Customers choose our solutions to align products, optimize products, systems, software development lifecycles with business objectives, customer needs to dramatically improve quality and predictability, while significantly reducing time-to-market and overall costs.
[...read more]

The Hood Group specializes in the introduction and use of Requirements management methods, and principals of structured development in organizations.
[...read more]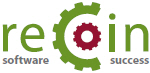 reCoin Gmbh is specialized in the field Software-Engineering with a special focus on the introduction and implementation of agile methods.
[...read more]
Sodius provides specialized software tocompanies and governments to manage models coming from various sources. As a specialist of NAF (NATO Architecture Framework) and DoDAF (DoD Architecture Framework), they create bridges to exchange information between different modeling tools. Their involvement covers the entire cycle of defense activities, starting with Training and Mentoring in Systems Engineering, Multidisciplinary process capture, Tool chain specification and definition, Tools interoperability definition and implementation, Collaboration definition and implementation, to support the deployment organizations. In coopreration with SODIUS SAS / France, IT-QBase has developed some Add-Ons, which help you to program in DXL (DOORS eXtension Language) in IBM® Rational® DOORS®. These tool extensions are developed and programmed by IT-QBase to offer you the possibility for meeting your highest standards.
[...read more]

We have a cooperative partnership with this company in the field of implementing concepts based on CMII models.
[...read more]

Agosense is specialized in integration of heterogeneous development tools, also beyond company boundaries. It is possible to introduce process-controlled and automated data exchange between all common development tools using the integration platform "'agosense.symphony".
[...read more]
Innovative Baseline was established in 2012 to support costumers with the themes Requirements management based on tools and the exchange of requirements data. Innovative Baseline has a branch in Temeswar, a University town in the heart of Europe because they appreciate the quality and high availability of this location.
[...read more]
This company helps customers to establish their Requirements management and ensures that the customers have a better understanding for their sub-contractors and suppliers to improve projects.
[...read more]