products
Our Products & Tools
In coopreration with SODIUS SAS / France, IT-QBase has developed some Add-Ons/Plugins, which help you to program DXL (DOORS eXtension Language) in IBM® Rational® DOORS®.
These tool extensions are developed and programmed by IT-QBase to offer you the possibility to reach the highest standards.
BranchManager for DOORS
The BranchManager suite can branch a set of requirements, visualize the differences between these branches, and merge changes across them. The BranchManager for DOORS is an add-on to DOORS that provides a powerfull comparison mechanism to identify differences between baselines and across branches.

[...read more]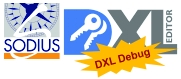 DXL Debugger
Source Code debugging is a critical activity in programming. Being able to debug your code will bring enormous benefits when managing complex programs and new team members will be able to maintain existing code a lot faster. The DXL Debugger features accelerate the programming processes many times over and lead to a top-quality result. The "DXL Editor ProLicense" helps to complete your projects more quickly.

[...read more]